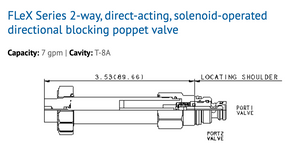 DTAFMCN FLeX Series 2-way, direct-acting, solenoid-operated directional blocking poppet valve
This FLeX Series solenoid-operated 2-way, 2-position cartridge is a direct-acting directional poppet valve. Available in either normally open or normally closed configurations, these valves feature a pressure-balanced design, low leakage, and allow flow or blocking in both directions.

This cartridge can be installed directly into a cavity in the end of many of Sun's pilot operated and ventable valves to provide integrated pilot control.
Cartridge can be installed directly into a cavity in some Sun pilot operated and ventable cartridges to provide electrically operated pilot control functions. Separate pilot lines are eliminated and only one cavity needs to be machined to accommodate both the control and primary function.
Suitable for load-holding applications when configured as Normally Closed. In the event of power failure, the valve will close.
Designed and tested to 10-million operational cycles at full-rated pressure.
Exceeds new NFPA test standard T2.6.1 R2014 for fatigue and burst pressure ratings.
Higher flow rates than competing valves of similar size.
Designed using CFD simulation for optimized geometries.
All configurations of this valve include zinc-nickel plating as standard for 1000-hour salt fog protection.
Normally Closed configuration can be used with any of the 740 Series coils, which include low-power, high-power, and 747 Series explosion-proof coils. Normally Open configuration can be used with the high-power and explosion proof coils only.
Coil connector options offer ratings up to IP69K. See individual coil product pages for details.
This valve is available with a manual push-type override option.
This valve exhibits extremely low leakage - 0.004 in3 (0,07 cc)/min (1 drop/min).
On models equipped with the D or L control, the detent mechanism in the manual override is meant for temporary actuation. The D, L and T manual control assemblies have a mechanical life expectancy of approximately 7,000 cycles.
A wide variety of coil termination and voltage options are available, with and without surge protection. See the CONFIGURATION section.
Incorporates the Sun floating style construction to minimize the possibility of internal parts binding due to excessive installation torque and/or cavity/cartridge machining variations.